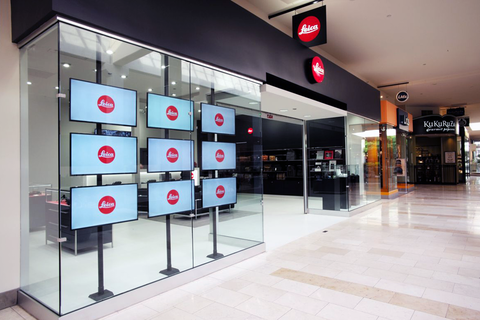 Bellevue Square Mall
221 Bellevue Square
Bellevue, Washington 98004
Phone: 425-451-4060
E-Mail: info@leicastorebellevue.com
Store Hours:
Monday - Saturday, 10 AM to 9 PM
Sunday, 11 AM to 7 PM
The store will be closed on Easter, Thanksgiving, and Christmas.
E-mail or call to place an order for contactless curbside pickup or complimentary delivery. Instructions for curbside pickup will be e-mailed along your receipt.
For more information visit our COVID-19 response page.
Leica Store Bellevue is located a short thirty-minute drive from downtown Seattle in the heart of beautiful downtown Bellevue. Situated near the magnificent Cascade and Olympic Mountain ranges, Puget Sound, and British Columbia, Leica Store Bellevue proudly bears the title of the Pacific Northwest's premier photographic retailer. Our attractive and welcoming retail space offers the full range of Leica cameras, lenses, sport optics, and accessories – including the timeless Leica M-System, the amazing SL- and S-Systems, and the remarkable Q2, along with the CL and TL2 and, of course, the powerful and affordable Compact Cameras. We also offer a wide-ranging and inspiring collection of unique products, ranging from camera bags by ONA, Oberwerth, and Peak Design to, straps, cases and more – all designed to help you personalize your individual style. Our walls feature a frequently updated selection of curated Leica photographic works; at the same time, we offer an interesting and enjoyable series of Leica Akademie workshops, along with classes, events, and gatherings tailored to educate and inspire you wherever you are on your photographic journey. Leica Store Bellevue is the place for photographers of all experience levels and interests to gather, enjoy coffee and conversation, inspire one another, and participate in this region's richly vibrant photographic community. We look forward to visiting with you when you stop by to meet our friendly and knowledgeable staff, share your stories and photographs, be inspired, and most of all, enjoy the unsurpassed experience of the awesome Leica!